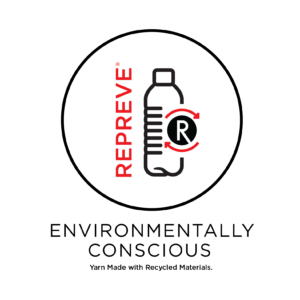 In today's world, it's more important than ever to consider the impact our choices have on the environment. That's why True North Mattress is proud to be certified with REPREVE®, one of the most environmentally friendly fibers available today. With REPREVE®, you can sleep comfortably knowing that you're making a positive impact on the planet.
100% Recycled Bottles
REPREVE® is made from 100% recycled bottles, giving new life to plastic waste that would otherwise end up in landfills or the ocean. Each Queen-sized True North Mattress contains the equivalent of 24 recycled water bottles, making a significant impact on reducing plastic waste.
High Quality Recycled Polyester Yarns
REPREVE® yarns are not only environmentally friendly, but they're also of the highest quality. These yarns are made from recycled polyester, providing the same performance benefits as traditional polyester, but with a reduced impact on the environment.
Cooling and Dry Wicking
True North Mattress takes REPREVE® one step further by combining it with premium cool technologies fibers. This creates a sleep surface that provides cooling and dry wicking, ensuring a comfortable and restful night's sleep.
Certified for the Environment
REPREVE® is one of the most certified, earth-friendly fibers available today. With its commitment to reducing waste and its use of recycled materials, REPREVE® is leading the way in sustainable production practices. By choosing a True North Mattress with REPREVE® certification, you're making a statement about your values and your commitment to the environment.
In conclusion, True North Mattress's REPREVE® certification is the perfect solution for anyone who wants to sleep comfortably while also making a positive impact on the planet. With its commitment to using recycled materials and its focus on sustainable production practices, REPREVE® is the perfect choice for anyone who wants to sleep well and do their part for the environment. So be sure to choose True North Mattress for your next mattress and make a difference today!